Anniversary in Bicknell, Ut
Our one year anniversary was in early October. We've spent most our weekends traveling and going to weddings. We were experiencing social fatigue. So we opted to have a casual adventure close to home. The way my wife and I make trips goes like this: She generally decides the area she wants to see, then I fill in the details.
My wife wanted to see Fish Lake National Forest so I built our itinerary around that. It was going drop below freezing at night and going to snow, so I found a hotel nearby that allowed dogs. So we found ourselves spending the weekend in the town of Bicknell, UT. Much like our trip to Kenab last year, we were delighted in what we found.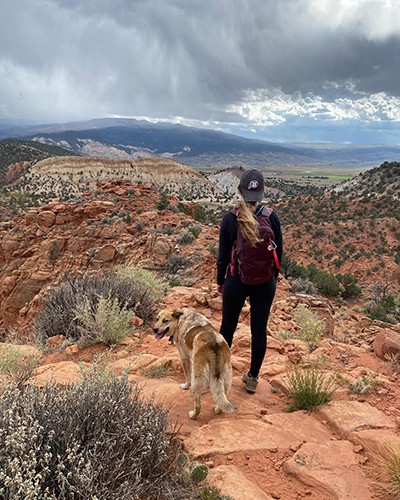 Bicknell is down the road from Torrey, Ut. This area right outside Capital Reef National Park is astounding. We took a hike 5 minutes from our hotel and found met incredible views. The landscape has both alpine green and red rocks capturing everything I love about Utah.
After the hike we had our "romantic" anniversary dinner at the original Curry Pizza, and had the Bicknell Theatre entirely to ourselves.
The following day we strolled around more Red Rock, ate at the best burger food truck (shoutout to Captial Burger in Torrey), then drove out to Fish Lake to see the fall colors. The anniversary was exactly what we wanted: quality time together, exploring a new place, at our own pace. These simple trips remind me to be grateful for this little family we have and the joy we have together.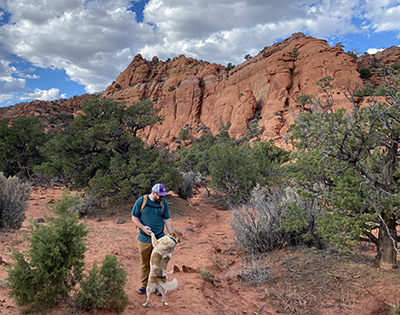 Two in a Canoe (+1 Tana Dog)
We capped the month off with a 65-mile jaunt through the heart of Southern Utah by way of canoe. Having never canoed before I was intimidated by the prospect of rigging the little canoe with camping gear and clothes for 4 days on the river. This was compounded because of the weather. The temps were going to be in the 70s during the day and dropping into the low 40s at night with snowfall on the last day. But with a little real-life Tetris and a handful of NPS straps we got it figured out.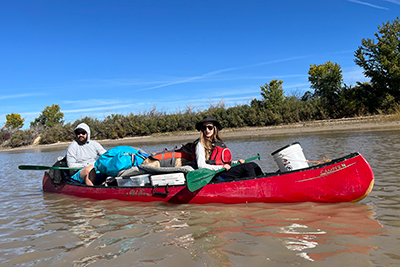 On our second morning we discovered the storm was rolling in faster than anticipated. We would hit 50 mph wind gusts the following day. We made the decision to finish the trip in 3 days instead of 4. The timing was perfect because we ended up driving through a blizzard in Price Canyon on our way home.
Instead of a casual 4 day float, we pushed for 3 straight days, the last of which was into a headwind. It made for quite the workout but the views were insane, the company was top-notch, and it was the perfect trip to top off the fall as we head into winter.